It is very soothing to relax on a hammock when the weather is warm. All you have to take care of is that the outdoor bugs don't bite you.
One way is to put on a bug repellent to keep the bugs away. A more effective and nature-friendly way is to hang your hammock with the best hammock bug net. 
Lightweight and easy to set up, hammocks with mosquito net are great for campers, hikers or anyone who wants to relax outdoors. You don't necessarily have to carry heavy tent poles or pegs when outdoors when you are equipped with an ultralight hammock bug net to stay safe from blood-sucking bugs and sleep peacefully.
There are many different options in bug nets for hammock camping. This guide will help you pick the best bug net for hammock among the available options. We have also reviewed the best ones over here to help you find yours.
Types of Hammocks with Bug Nets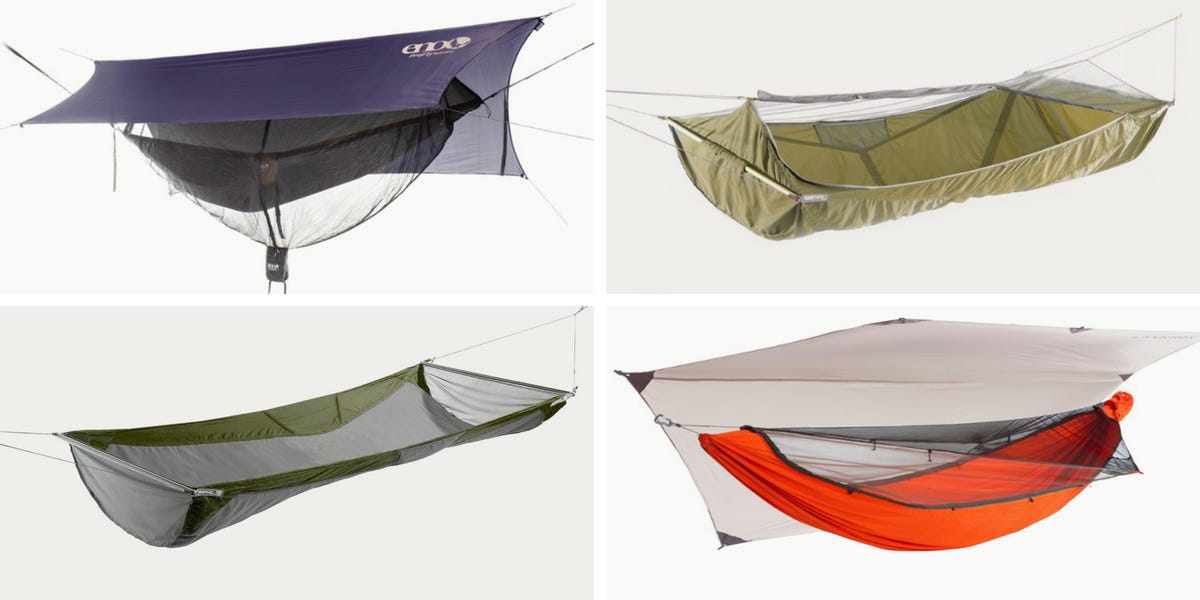 You will find two major kinds of hammocks with mosquito net. One is where the bug net is built-in with the hammock, and the other is where you get a separate bug net for your hammock. Each style has its pros and cons.
Built-In Bug Net Hammock
Pros
Uninterrupted protection: Since the net is always attached to the hammock, there is no chance of any insects getting near you. 
Ease of use: it is just one item you have to carry around and take care of.    
Cons
Blocks the view: the netting can block your view if you set up these properly. 
Not 100% protection: these mosquito net won't let the bugs in, but they can't stop them from biting you through the hammock.   
Separate Bug Net
Pros
360-degree protection: The net is hanged on the top of the hammock, and it reaches the ground. This way, you are covered from all sides. 
Chance to enjoy the view: If you find no bugs around, you can take the net off and enjoy a clear view.
Easy to set up: These take fewer steps to set up as you don't need a line for the bug net if you are not putting it up. 
Versatility: it is your choice to put up the net or not, which is why this is a versatile option.     
Cons
Difficult to access: climbing up a hammock is already a struggle and doing so with a net draped around it makes it tougher. 
More material: the hammock and the bug net will be two things you will have to carry around and take care of.
More hassle: for using the net you have to string the hammock, this and the process to get in and out are all annoying.         
Why You Need a Hammock Mosquito Net?
If you have gone camping at least once in your life, you will know that a night of good night sleep is essential for you to enjoy hiking during the day. Bugs and mosquitos can ruin your sleep experience. They can disturb your sleep with their buzzing and can suck your blood. There is a high risk of contracting malaria or dengue if you get bitten by a dangerous kind of mosquito.     
Usually, people use tents to avoid bugs on their camping trips. However, tents are heavier and will need you to carry a bed as well. And in hot weather tents make you suffer as they block the airflow, which is why they are quite impractical for warmer days.
It is like you solve one problem and create another one, both equally unbearable. This is why adding bug net to your hammock is a great solution to all your problems. It offers comfortable sleep, great airflow, and protection from bugs. 
Tents are more weather resistant as compared to hammocks.  For bad weather, you can consider putting up a tent above your hammock to stay secure. For light rain, a hammock with bug net and rain fly will do the job. 
What is the Best Brand for Hammock Bug Nets?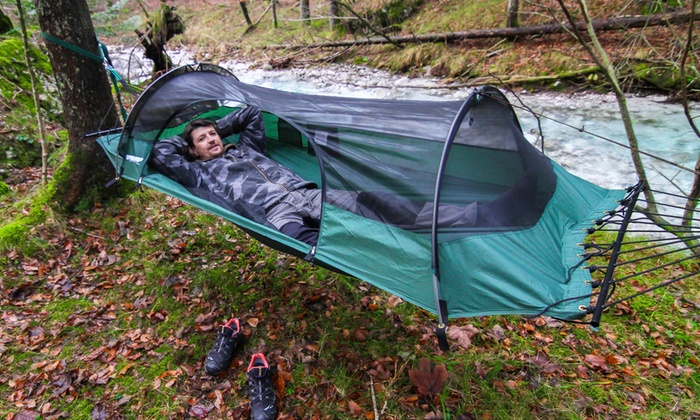 Bugs nets can be added to a hammock in two ways. Either get a hammock with built-in bug net or use a canopy-like bug net that drapes around the hammock and gives you a spacious area free of bugs. 
Hammocks built by cottage makers like Newdora, and Adventure Gear Outfitters have a bug net attached to them, and there is no need to buy a separate netting. 
Its bigger brands like Eagle Nest Outfitters and the likes that need you to get a new bug net. Which is alright for people who want space to move around, but it is one more expense you have to incur.
If you prefer zippered bug net that fits right on your hammock, it is best to have a look at the website of hammock manufacturer—using a bug net from a different brand with a hammock from some other brand rarely work. When it comes to zippered bug nets, it's not about the best bug net for the hammock; it's more about the one which fits perfectly to your hammock. 
What is the Benefit of Hammock Bug Nets?
The benefits of bug nets are not limited to keeping the insects away. Here are some other ways they enhance your experience: 
Camping hammock with bug net allows you to enjoy the view from an elevated height. This is something you cannot experience when camping in tents. 
Bug nets allow good airflow in your outdoor experience. It can get really hot and sweaty in a closed-off tent when the weather is warm. You don't have to bear the suffocation of polyester tents in hot weather when you are carrying hammocks with mosquito net.  
If you feel exposed on a hammock out in the open, it might be difficult for you to sleep feeling all skittish. The bug net can reduce that feeling by adding a layer between you and the outside world. 
A bug net will not only protect you from blood-sucking mosquitos but also keep out the flies, bees, spiders and crawling animals such as snakes and lizard.
Camping hammock with bug net allows you to stay close to your friends and family. The netting is a weak layer that will not interrupt your interactions with your fellow campers. Having company when hammock camping is great fun.                  
How to Choose the Best Hammock Bug Net?  
You will find a lot of bug net options out there. Here is what you should consider when getting yours: 
Tightly Woven Design    
Get a bug net that has two hundred fifty to three hundred holes per square inch to make sure no bug can enter near you. The finer mesh will not let the smallest of insects get inside. It might block visibility, though. If you don't want to compromise on visibility, then choose one with slightly bigger holes. It is a trade-off between visibility and protection. 
Lightweight 
A lightweight design bug net is a smart idea when camping. Pick one that comes with its compression bag, so the packing is easy. Bug nets can weigh from 9 ounces to 3 pounds. You can find some weighing as low as just 6 ounces. The weight varies the type of use you're going to have on your trip, so keep that in mind as well.  
Insecticide-Treated or Not 
Whether you want a chemical-free bug net or one treated with insecticide, is your choice. Insecticide-treated bug nets are more effective, and chemical-free ones are more eco-friendly.
Easy To Install    
Get a mosquito net that is quick and easy to setup. Setting them up is not difficult. But still, check reviews and get the one that is easy to install. It is best to practice setting it up at home before going on the trip. You want a bug net that takes very little time to set up and requires less effort. 
Size and Sturdiness
Get a bug net that is larger than your hammock to cover it and is sturdy to latch on to the trees securely. When buying a separate bug net from the hammock, make sure there is at 2 feet more on each side for you to install it above the hammock and move around it easily. 
Efficiency and Durability
Choose a bug net with a mesh design, so it offers visibility, breathability and protection from 360 degrees. The fabric has to be sturdy enough to last longer. Make sure yours comes with accessories for sturdy installation such as long-lasting straps.
Built-In Bug Net with Hammock or Separate Bug Net
It may seem easy just to get a built-in bug net hammock, but they don't offer the ease of movement, and their net can get damaged because of constriction. Plus, the built-in netting just offers protection from the top and doesn't take into account the bottom where insects can get in through the thin fabric of your hammock. 
A separate net won't have any of those issues. It offers full coverage, and you can take it down when you wish. It has an added cost but can be worth the money. So make an informed decision when picking yours. 
Quality and Price
Different bug nets for hammocks come at different prices. Your goal is to find one that offers good quality at a reasonable price to make the most of the product. Some brands set their prices for the net high while others may be offering a similar product with lower price. Before you make a purchase, check out the reviews and then pick wisely. 
We have handpicked some great quality bug nets for hammocks based on customer reviews as well as testing each one of them and some other contenders. You have noted the pointers about what to look for in a bug net. Our detailed reviews will help you select the best hammock bug net for you without spending much time and effort. These are all great quality and offer a variety of different styles and come at a reasonable price point.
Comparison Table for Best Hammock Bug Net
[amazon table="9319″]
Reviews for the 6 Best Hammock Bug Net
Features
Material: Polyester mesh
Weight: 1.45 pounds 
Dimensions: 11 X 4.75 feet
Unique Selling Point: curtain style ultra-large netting with two openings
You will get: carry bag, seven hooks and screws, extra string.
Product Description
This bug net by Mekkapro is Ultra-large like its name. This is a chemical-free netting made up of polyester mesh which is odourless and highly eco-friendly. It has two zipper openings to get in and out of. It's a square-shaped canopy style bug net offers protection from 360 degrees. The polyester fabric is durable and sturdy. The mesh design is breathable.
The Mekkapro bug net comes with seven screws, sturdy straps and ropes for easy installation. Due to its huge size, it fits the majority of the hammocks available. It comes with its carrying pouch and its clip making it easy to carry around with its accessories. You can hang this mosquito netting anywhere, and its ultra-fine mesh will keep al the flies and insects out. Keeping it clean is not a problem as this is machine washable.
Pros
The Mekkapro Ultra Large Mosquito net has an extra-large size to offer a huge bug-free zone.
Its two openings allow easy entry and exit.
It is not treated with any chemicals, so it is eco-friendly.
Cleaning this bug net is super easy as it is machine washable.
Its net is designed in hexagonal shape, providing a great combination of superb protection and breathability.
This netting comes with a carrying bag.
It also has a hanging kit complete with straps, ropes, and screws.
With all of that included, it is still lightweight, weighing less than 2 pounds.
Cons
The net is somewhat thin.
Its lower part can move to because of wind.
Why Buy Mekkapro Ultra Large Mosquito Net?
Mekkapro bug net gives great performance because of its large size protecting 360 degrees. It keeps mosquito's and other insects outside while still not compromising on breath-ability. It is possible because of its mesh design that offers visibility and ventilation. This is a sturdy bug net because it has a proper hanging kit allowing ease of installation and high performance. 
Why People Buy Mekkapro Ultra Large Mosquito Net?
The ultra-large mosquito net by Mekkapro is quite big and will accommodate almost all kinds of hammocks available out there. It offers a huge space free of bugs where you can relax. There is a hanging kit containing ropes, straps, and screws that customers appreciate. The carrying pouch is also a great plus that people love because of its portability. It is chemical-free, which is a preference for people who care about the environment.         
Features
Material: Skyaweave mesh and 40 D ripstop nylon
Weight: 15 oz
Dimensions: 9'4″X 4'3″
Unique Selling Point: Compatible with all ENO hammocks 
With the net, you will get: Ridgeline and carry bag.
360 Degree protection
Weight is only 16 ounces
Stuffs easily into an attached storage bag
Includes a 3mm ridgeline so you can hang it anywhere
Kick back and relax bug-free
Product Description
The Guardian bug net by ENO is made up of superfine net, allowing a relaxing bug-free environment. The ENO hammock bug net is compatible with all hammocks by Eagle Nest Outfitter. Because a high-end brand manufactures it, its price is on the higher side. 
It is lightweight with just 16 ounces of weight and easy to carry when packed. Its material is 950-square-inch SkyWeave no-see-um mesh which means all the critters and mosquitos will not be able to enter it, and it will still be breathable. It envelops your hammock surrounding it from all side letting you sleep peacefully. It has a completely vertical zip-on entry. 
You get a very big space free of bugs and protection from 360 degrees. The package includes 3mm ridgeline which is highly durable, and integrated gear loops make hanging the bug net easy. It compliments all hammock manufactured by the eagle net outfitters of all sizes. It is sturdy and durable, offering superb performance outdoors.   
With the dimension of 9'4″ x 4'3″ it is big enough for tall people. However, it cannot accommodate two people at the same time. It has a carry bag included that makes it easy to carry.       
Pros
This is a big mosquito netting having a size of 950 square inches.
It is very lightweight with a weight of only 16 ounces.
The package includes a sturdy 3mm ridgeline.
There is a carry bag included with this bug net.
It can easily accommodate people having heavyweight or tall.
Cons
The ENO hammock bug net is slightly pricey.
Its mesh is super fine, which is why it reduces airflow and is not as much breathable. This is why it is not suitable for hot summers.
Why Buy Eagles Nest Outfitters Guardian Bug Net?
Eagle Nest Outfitters make superb camping gear, and the Guardian bug net meets all quality standards. The net is highly durable, and the fabric is quite dense, offering optimal protection while providing nice airflow and visibility. It is big enough to accommodate large size people.  
Why People Buy Eagles Nest Outfitters Guardian Bug Net?
All ENO hammock owners are fans of the Guardian bug net. The Eagle Nest outfitter guardian bug net is big enough to accommodate all hammock by Eagle Net Outfitters of all sizes. You can safely relax inside it along with your children or pet animal. 
Features
Material: 210T Nylon Taffeta
Weight: 38 ounces
Dimensions: 270 X 140 cm
Unique Selling Point: 2 person hammock can hold up to 600 pounds
Accessories: Stainless steel carabinier set, 2 m long rope, and compression bag
2-way hammock use
Avoid any disturbance from mosquito, bugs, flies, insect; raw out the 2 pop up bars
Comfortable and high quality
Very easy setup
Product Description
This mosquito net comes built-in with the hammock. The pop-up design of the bug net allows you to sleep peacefully without hitting the bug net every time you slightly move in your hammock.
The mosquito networks two ways, you can rotate it 180° to slide it beneath the hammock when the net is not required. There are loops around the hoops that allow you to put ropes in them and extend the bug net further away from your body to allow more space to move around. 
The hammock is spacious enough for two people with dimensions of 275 cm X 145 cm. Both the hammock and bug net are made up of highly durable parachute fabric and can support up to six hundred pounds of weight. The combined rate of the hammock and the bug net is only thirty-eight ounces, which makes it very lightweight and portable. Moreover, it comes with a hundred per cent money back guaranty the customer who is not happy with it. 
These are perfect when you want to make a camping trip with a romantic partner. You get superb protection against bugs and rain as well as hard or wet ground.      
Pros
The hammock and the bug net by Newdora are easy to install and takedown.
It is an ultralight hammock bug net with the net weighing only 17 ounces.
It is made up of very sturdy 210T Nylon Taffeta.
The package includes carabiners as well as straps.
The structure of this hammock with bug net and rain fly is highly supportive.
Because of its good ventilation, it works well throughout the year.
It can easily carry a weight of up to six hundred pounds.
Cons
Being a hammock plus bug net, that too for two persons, its cost is on the higher side.
Usually, all hammocks by Newdora are small for taller people; this is true for this one as well.
The accessories to set up this hammock and bug net can cause harm to trees.
If the two persons sharing the hammock are both large individuals, this hammock and bug net might become too stuffy for two people.
Why Buy Newdora Hammock with Mosquito Net?
If you want to get a hammock with a built-in bug net big enough for two people, the Newdora one is the best hammock bug net for you.   
Why People Buy Newdora Hammock with Mosquito Net?
The people looking to go on romantic getaways with their partner in the nature love this one buy Newdora. 
Features
Material: Exclusive 100% Polyester Mesh
Size: 11FT long x 4.6FT wide 360 degree coverage
Easy Setup
Comes with our convenient dual-sided diagonal zipper
The seller guarantees the quality of our zipper is the best
30 days with full confidence in the product
Seller, we offer 100% refund
Unique Selling Point: Professional and friendly service ensures long-lasting enjoyment of your purchase
Product Descriptions
This bug net offers full coverage for all hammocks having 9 to 14 feet length. Wecamture netting offers freedom of movement because you place your hammock diagonally in the bug net. It has got a super fine mesh net that will even keep the tiny no-see-ums out its zone. Also, it surrounds the hammock from all sides, offering 360-degree protection. It has a diagonal zipper on two sides for easy entry and exit. There is a ridgeline included with the bug net for ease of installation.  
The material is extremely lightweight, making it easy to carry on hiking and backpacking trips. You get excellent airflow and ventilation because it is quite breathable. It also lets you see the outside world without much problem. This bug net is suited for all weathers and won't heat up or get stuff in hot weathers. It is jungle tested by the manufacturers. There is a handy carry pouch included with this bug net for ease of portability. 
Pros
It has two zippered openings for easy access from both sides.
It is quite light to carry in a backpack with much ease.
The setup is very quick and easy.
The net is strong and durable and will keep the dangerous bugs out.
It is tested for quality and will hold up even with heavy usage.
The package includes a ridgeline and a carry pouch.
The bug net offers 360-degree coverage.
There is a 30-day money-back guarantee.
Cons
The zipper is reported to be faulty by some customers. If your net is defective, reach out to the manufacturer and claim the warranty ASAP.
Why Buy Wecamture Hammock Bug Mosquito Net?
Wecanmture has offered an ultralight hammock bug net giving 360-degree coverage from dangerous bugs. Its polyester fiber is durable and jungle tested for heavy use. It can accommodate two hammocks at the same time. It offers good visibility and breath-ability. 
Why People Buy Wecamture Hammock Bug Mosquito Net?
Customers love the fact that this is a lightweight bug net in the market, making backing and hiking a breeze when carrying this. Wecanmture bug net is compatible with almost all hammocks on the market. The setup is quite easy because of the sturdy and long ridgeline and speed clips to ensure that the attachment is secured. This is why installing it is super quick. Happy clients very appreciate vertical zippers on two sides for easy entrance and exit.  
Features
Material: Ripstop Nylon
Weight: 35 ounces
Dimensions: 9.5 X 4.7 feet
Unique Selling Point: Elastic Suspension Cord for netting 
Additionals: Multiloop tree straps, carabineers, net suspension, and compression bag.
Size: Twin
Very affordable price
Free Multi-Loop Tree Straps
Super easy setup
Strong lightweight design
The seller offers a 6-month money-back guarantee
Product Description
This is another bug net that comes built-in with the hammock. The Adventure Gear Outfitter hammock has a premium design with the capacity to hold up to four hundred pounds of weight. The hammock is made of ripstop nylon which is lightweight and strong. Its length is 9.5 feet and width is 4.7 feet.
The package includes multiloop tree straps, carabiners, net suspension to help you set it up with great ease and a handy stuff sack for easy portability. The mosquito netting will keep you safe from all the critters. If you don't need the net during the day, you can just flip the hammock over, and the net will go down giving you a net free hammock surface. At just 15 ounces, this is very lightweight, ideal for backpackers and hikers. Its stuff sack makes it more compact to go along with all its accessories secure inside it. 
What sets this one apart from others that its bug net is elastic. This feature is very intelligent because this way you can stretch the net with no fear of ripping it. Three straps come with this hammock making it easy to hang with the perfect support. Its price is reasonable for all what it has to offer. It will easily hold up on your hiking trip for several days. The six-month guarantee is also a sign that this is a quality product.     
Pros
This hammock is lightweight.
It can be easy to set up.
This hammock has tree straps included in the package.
It can be folded to a very compact size for
The net has got elasticity.
Cons
This hammock is only designed to carry one person.
Why Buy Adventure Gear Outfitter Hammock with Mosquito Net?
A superb bug net built-in its hammock for people who don't want to buy separate hammock and netting. This is a great alternative to tent camping. You can just hop in your hammock and zip-up its net for a peaceful time outdoors. It is very reasonably priced as compared to big expensive brands on the market. 
Why People Buy Adventure Gear Outfitter Hammock with Mosquito Net?
Backpackers love this lightweight and portable hammock with a pre-installed bug net. It is easy to carry, easy to install and offers bug-free sleep all night long. The design is durable and sturdy. It comes with a six-month guarantee. 
Features
Material: upper net: Polyester mesh, underside: 15D Nylon
Weight: 7.7 ounces 
Dimensions: 9′ x3.5′
Supplements: Ridgeline and storage bag
Unique Selling Point: DWR treated side splash protection
360° Bug Protection with a spacious interior perfect for relaxing
Easily stuffs into the included storage bag.
Includes 3mm ridgeline so you can hang it anywhere
Product Description
This is an ultralight hammock bug net by Outdoor Vitals with a weight of just 7.7 ounces. It also offers side splash protection with its underside treated with DWR. This bug net comes at an affordable price. It measures 9′ x3.5′ so make sure the size is right for your hammock. 
It is highly durable with a 15 denier nylon material used to make it. A notable feature of this bug net is that it is treated with a waterproof coating of polyurethane DWR on its base. This means its base is waterproof. Aside from providing superior protection, the DWR coating on its bottom will ensure that you stay dry in case there is a splash from the ground.
If you are feeling chilly, you can roll the nylon base above your body to warm yourself up. This setting can also provide you with privacy to change your dress. This bug net comes with a small ridgeline and cord locks in case your hammock is not hung on a ridgeline already. This is why this bug net is not only ultra-light but also serves many purposes.
Pros
This is 9′ x3.5′ and is compatible with all hammocks by Outdoor Vitals.
This is ultra-light with a weight of just 7.7 ounces.
It is highly durable.
It is pocket friendly.
It comes with a carry bag, making it easily portable.
Cons
There is little headroom in this bug net.
The set up is not as easy as its contenders.
Closing this bug net can be a hassle.
It could have been much better if it was made using the right diameter.
Why Buy Outdoor Vitals Ultralight Hammock Bug Net?
If you want a bug net that envelops your hammock like a sock, the ultra-light by Outdoor Vitals is the one for you. It is lightweight, durable and offers the ultimate protection. If you want to go on a backpacking trip, this bug net is the lightest one on our list. It is also very easy on the pocket for people who want a cheap yet effective option.  
Why People Buy Outdoor Vitals Ultralight Hammock Bug Net?
People love this bug net because it works in versatile ways. Its waterproof base can be rolled up to block wind and create some privacy. Customers rave about its lightweight and portability. It is one of the lightest bug nets on the market. 
Buyers Guide for Best Hammock Bug Net
All the bug nets offer different features to make themselves unique from each other. Some of them are better than others; you want to choose one that is designed to meet your specific needs.
Is your goal to pack light for your backpacking trip? Do you want to get the most pocket-friendly option? Do you want a bug net that is big enough to cover two hammocks at the same time? Everyone wants the best value for their money. 
We have listed all the important feature you might prefer in your bug net to help you make the best decision.           
Coverage Size 
If you are going hammock camping with multiple people, it doesn't hurt to hang multiple hammocks under one huge bug net. If you are heading on a romantic getaway, you can get a big hammock with a built-in mosquito netting for that intimate experience. You can also find short bug net that envelope your hammock from all around giving you 360-degree coverage. Most importantly, your bug net should be big enough to cover your hammock completely.       
Mesh Bug Net Vs. No-See-Um Bug Net  
Everyone gets a bug net to not let the bugs enter their sleep zone. No-see-um bug nets are finer than the regular mesh nets. More tightly woven netting means even the tiniest of bugs cannot pass through it; however, the same goes for airflow. No-see-um netting can get hot and stuffy in summers or warm regions.
Most of the tiny bugs are also found in a warm region. This leaves you with two choices: hundred percent bug protection or good airflow. One way is to use your superfine bug net at night time when it is relatively cool and for day time uses your breathable bug net.               
Fabrics 
Bug nets are made using either nylon or polyester mesh. Chose the one that feels better to you. Both are durable fabrics available at different price points. It comes down to how many holes per square inch the net has. You want the best balance between bug protection and breathability and visibility.     
Weight 
Lightweight bug nets are a priority for backpackers and hikers. Another important thing is how compact size the net can fold into. If your aim is mainly backpacking, then it is best to choose a bug net that has its compression bag. If you mostly set up your hammock in your backyard, then the weight is not as important for you and you can go for heavier options if they suit your hammock better.         
Colour Choice 
Usually, bug nets come in black, white or grey colour. For warm weathers, it is best to select lighter colour mosquito as dark colours absorb the sunlight making you hotter. Whites and greys are better for day time use. If you only plan on using the bug net at night time, you can go for the black colour net.  
Extras
Accessories are important to set up your bug net in the best possible way. It includes ropes, carabiners, straps, ridgeline and the carry bag. Some bug nets even include collapsible spreader poles to make it easy to mount the bug net. Apart from the quality and size of your net fabric, the accessories are important for quick and easy installation of your bug net. The quality of accessories can determine the durability of your product. You don't want to waste your money on something that gets damaged in one or two uses.      
Price & Quality 
You can find your best hammock bug net anywhere between thirty dollars and one hundred and fifty dollars. Like everyone, you also want the best value for your money. When you are doing your research, it is best to check out the reviews from real buyers for your desired model. You can get many good bug nets at really budget-friendly prices without compromising much on quality. If you are not short on time, you can save a lot of money by waiting for the sale season. There are certain times of the year when you can get amazing deals and offers on all kinds of camping gear. People who like saving money make most of their purchases in the sale season. 
How do you Hang a Mosquito Net to a Hammock?
Putting a mosquito net on your bed at home can get tricky for you, so it is best to find one for your hammock that has the simplest process of setup. 
Bug nets with ropes are very common and popular when it comes to their setup. They let you flexibly set the net and fit it atop your hammock. 
But with ropes, the installation can get complex and time taking and require multiple accessories such as ridgeline and guideline, etc. One more way of setting up your bug net is using carabiners. It is easier to attach the bug net with carabiners. 
When using carabiners, make sure they are of superior quality and function well and can hold up the weight. When online shopping a bug net with carabiners, it is important to see the reviews. 
A spreader pole can be a great accessory when it comes to mounting your bug net over your hammock. 
It is easy to use and gives you a base structure for easy setup. However, carrying a spreader pole to your camping location can be a daunting task. 
It is best to practice the setup at home before heading to your adventure so that you know the drill and do it in no time when outdoors.
How do I keep bugs out of my hammock?
Relaxing on a hammock in a beautiful environment can be anyone's dream come true. But mosquitos and other bugs can ruin all your fun of hammock camping. They not only disturb your sleep but can also cause life-threatening diseases such as dengue and malaria. You must know how to set up your bug net right above your hammock and your good. It is advisable to set your hammock away from water or humid areas. Mosquitos breed in water. So make sure your camping location is away from any swamp, pond, lake, river or wet soil. Camping near the breeding grounds of mosquitos is like inviting them over.
For more protection spray Coleman over your bug net. Coleman is a relatively safe bug repellent, and it is effective when sprayed on fabric. When your bug net is treated with it, the chances of any bugs entering your space become near to zero. This is especially helpful when you open and close your bug net. Mosquitos may try to enter inside every chance they get. When the zip is closed, it is safe, but when you open it, they might sneak in if your bug net does not have any insect repellant treatment done with it. Spending the night with even one mosquito inside your netting can be an awful experience.
Coleman 40% Deet Insect Repellent Spray
[amazon box="B004YVQ2T4″]
Your bug net must be set up correctly with everything secured in place just like the manufacturer instructions. Some bug net is set up using carabiners, and others are set using ropes and ridgeline, etc. A spreader pole is also used at times to mount the bug net. Make sure you follow all instructions and utilize all of the accessories as described.
When taking down your bug net after your camping trip, give it a good shake so that no insect is lingering on it that you take home with you. Gently roll your bug net into a compact fold and be sure that you don't tear it in the process of taking down. Take special care of this factor in case your bug net is made up of polyester mesh that you don't create a hole or tear in it while folding it.
Your bug net will last for many years and make your several trips peaceful if you buy a quality product and use it with special care. Care can add life to any of your gear. 
Frequently Asked Question for Best Hammock Bug Net  
Q: Do you need a bug net for hammock camping?
A: Absolutely, yes. A bug net is super important if you don't want to be literally eaten alive by blood-sucking little monsters in the wilderness. 
You could light a fire or apply a bug repellant lotion, but a big net offers the ultimate protection you need when out in the open.  
Q: Is it safe to camp in a hammock?
A: Yes, it is totally safe to camp in a hammock if you set your hammock right and take a few precautions. You obviously should not set the hammock at unreasonable heights or near flowing water, that is a recipe for disaster. But mostly hammock can be safer than tents if done right.
Q: Can bugs bite through hammock?
A: If your hammock is made up of very thin fabric, there are slight chances of bugs sucking your blood through the hammock. You can avoid this by using a bug net that offers 360-degree coverage.  
Q: Can you sew mosquito netting?
A: You could, but why would you get into such a hassle. The bug net needs to have really small holes and still be really breathable. This feat cannot be accomplished manually. Aside from that, the ready-made bug nets come at really affordable prices, way less than what it would cost you to sew one manually.  
Q: Is it bad to sleep in a hammock every night?
A: If you feel comfortable, you can definitely sleep in your hammock every night. Every person is different and finds comfort in different sleeping styles. There is no harm in sleeping on a hammock every night if you feel like it. 
Q: Are Hammocks bad for your back?
A: You sleep on your back when you're on a hammock, this is how they are designed. This reduces pressure from your spine and is actually good for your back. You don't toss and turn on hammock-like your regular bed. This is why people with back pain wake up refreshed when they sleep on a hammock. 
Q: Can bugs bite through nylon?
A: Nylon and polyester are tightly woven fabrics; they don't let the bugs get in or bite through them. Knit fabrics and cotton are notorious for letting the bugs penetrate through them.
Q: Will a fire keep bugs away?
A: Smoke repels fire, and you can add herbs to your fire to keep the bugs away. Burnt sage gives off a nice smell and is good for repelling bugs. Same is the case with citronella. When you add citronella to your fire, bugs will stay away from your surroundings. You can get the best fire starter while you are on the camp as fire is very important. Check out our full guide on the best fire starter.
Q: Do tents keep bugs out?
A: If you close them in the right manner, tents are supposed to keep the bugs out. Tents always keep you safe from the outside elements. Just make sure your tent has no tears or holes in it to let the bugs in. 
Check our buyers guide on the Best Tent Brands
Q: How do you keep bugs away when tanning?
A: You could burn some herbs or apply insect repellent lotion, but when it comes to tanning, you don't want anything to ruin the sun from touching your skin. Using bug net is your best bet to tan without getting bitten by bugs.
Q: Will tulle work as bugs netting?
A: While tulle can successfully keep the bugs out, it is not as breathable as mesh, and it also blocks visibility. The answer can be yes if you just want bug protection without much care for airflow or visibility, but tulle cannot simply give the experience that mesh mosquito netting can give. 
Summary
The best hammock bug net can be different for different people. For people who have got company and want a spacious bug free area, a large canopy style mosquito netting shall be great.
For the lone camper who goes to the hammock only when it's time to hit the bed, a built-in bug net with hammock shall do the job. Then there are people who want to enjoy on huge hammocks big enough for two people at the same time. Luckily we have an option like that too on our list. Check out our reviews and see if you can arrive at a purchase decision for the best hammock bug net.