If there's one thing that many Jeep owners have in common, it's a desire to be adventurous. They enjoy getting out of the city and into the wilderness. They enjoy blazing trails and roughing them, whether in the desert, the forests, or the wild. Jeep owners, in a nutshell, enjoy camping.
Jeep is the greatest option for individuals wishing to pack their sleeping bags and tent and hit the road for a long weekend away. However, the jeep is not just for off-roading and camping. It can also be used to tow or even carry the gear you need, which means it's perfect for any outdoor experience! In addition, jeep owners have personalized their "Jeep Camping" experiences, from adding a trailer hitch to installing an air conditioner unit in your cab.
If you opt to boondock in distant regions inside dispersed camping grounds, you're likely to push your off-road driving talents to their limits. On the other hand, if you want to go over landing – a self-sufficient way to go to remote regions by car — you'll need a more robust, off-road RV or tent trailer to get you to the greatest boondock camping spots.
The Best Off-Road Camping Trailers You Can Buy
Durable materials, elevated suspensions, and hefty off-road tires are common features of camping trailers, robust RVs, off-road camper trailers, and other overland-equipped vehicles. The off-road enhancements make it simpler for adventurous campers to transport their rig to distant regions where crossing the rough terrain may entail rock crawling, river fording, or mudding.
Learn More: How to Clean the Outside of a Camper Trailer
Top 8 Off-Road Tent Trailers and Off-Road Camping Trailers are
Airstream Basecamp X.
Taxa Outdoors Cricket Overland.
Opus Camper OP-4.
Taxa Outdoors Woolly Bear.
Smittybilt Scout Trailer Kit.
Boreas Campers Boreas-XT Camper Trailer.
Schutt X VENTURE XV-2.
Blue Ridge Expedition Trailers BRX1.
Jeep Camping Tents & Gear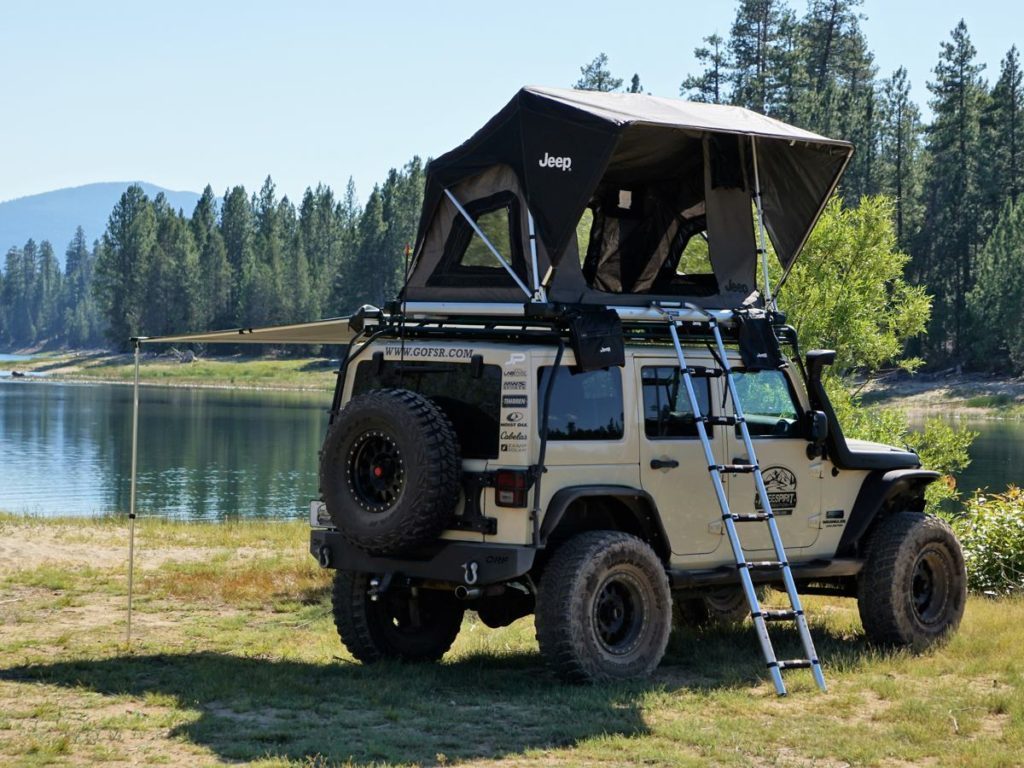 Overlanding & Camping Accessories
Naturally, if you own a Jeep, you're likely to like personalizing it. Jeep has a long history of attracting owners who value independence and originality, which leads to modifications that personalize your truck. In addition, there are a plethora of accessories available to modify your jeep for camping. There is some equipment you will need for jeep camping. On this website, you will find the required tools.
Extensions, tent attachments, integrated coolers, specialist portable cooking stoves, and even hammocks that can be pulled directly out of the vehicle are available. The options are nearly endless; after you begin your personalization trip, the only concern you'll have is where to stop!
You might not even need a tent, depending on the size of your jeep! Many of the cars in the lineup have enough space for folding down the seats, spread out a pair of sleeping bags, and hit the road, especially if you're only traveling with one or two other people. There are also air mattresses that are intended to fit in the rear.
If you have more than one or two people or a smaller Jeep, there are many camping trailers that your SUV can readily tow. With features like generators, cooking facilities, and more, camping trailers may provide a lot more luxury than a tent. Many folks, of course, prefer to rough it and toss it in their tent and go!
Jeep Wrangler Camping Accessories
Jeep drivers are known for their love of camping and the great outdoors, which is why we have such a large assortment of Jeep camping equipment. All of the camping gear you'll need for your next outdoor journey may be found in this collection of accessories. Work lights, flashlights, seats, rooftop tents, awnings, tailgate accessories, tools, jerrycans, fuel containers, and other outdoor gear are among the categories available.
Read More: Best Tent Brands
Cooler bags, ax sheaths, axes, air purifiers, boot swag, bungee cord balls, camping chairs, fridge freezer mount kits, fridge freezer transit bags, jerry can mounts, tent ladder extensions, and utility bags are just a few of the Jeep Wrangler camping accessories available.
There are various customizing choices available depending on the items you need for your next Jeep Wrangler camping trip. Depending on the attachment, you may pick the position, material, finish, color, location, or light pattern. You may also search our inventory based on those criteria, as well as price, make, brands, and whether or not a component is on sale.
Jeep Camping & Overlanding Gear
The next best thing to exploring new places is discovering them in a completely different way. Overlanding has become one of the most popular off-roading categories for those thrill-seekers who want to explore distant locations while soaking up the beautiful scenery and sticking close by their four-wheel-drive vehicles on rough terrain with plenty of bumps along the way.
The aftermarket parts and accessories industry has taken notice. Over the last several years, a slew of really smart and practical extras have emerged that solve issues, make life on the road simpler, or are just plain awesome.
Whether you're a weekend warrior looking for the greatest trails near your house or embarking on a multi-country, multi-year trip, there are a few items that almost everyone should carry.
Jeep Camping with Kids
It's no secret that some of the greatest camping places are difficult to get and necessitate the use of a 4×4. However, Jeeps are among the greatest automobiles to go off-road if you're searching for an off-road Jeep Camper. They can pull an off-road camper trailer with off-road wheels, or a popup tent may be attached to the jeep's top.
A Jeep may be converted into a camper in a variety of ways. Installing a Jeep roof tent on top of the jeep is one of the most practical options. This allows you to rapidly set up a sleeping space on the car's rooftop while still driving.
It eliminates the need for towing and allows the jeep to keep full off-road capability and mobility. It's the smallest and lightest choice, and it allows you to visit some of the more difficult-to-reach locations. In addition, it doesn't take up much room to set up because the jeep's size is virtually all you need. That's why it is important to consider these gear camping with kids:
Grill with Propane
You won't have the luxury of cooking appliances, just as on a traditional camping vacation. Instead, you can cook meals on the road using a gas grill, especially if there are widespread fire bans and you aren't allowed to ignite fires.
Chairs for Camping
Make sure you have a camping chair with you when you go camping! Although a picnic blanket may be used, picnic chairs make eating meals and keeping the kids in one place thousand times more comfortable. If you have really little children that need to be buckled in, Target even provides a camping highchair.
Sleeping bag
If you're going Jeep camping, you'll still need your sleeping bag because the top popup tent is still just that: a tent. You'll be slightly warmer than sleeping on the ground because it's higher off the ground and has one hard-shell side, but you'll still need a thick sleeping bag if you're heading up into the mountains.
Lighter
Something easy to overlook but crucial if you plan on preparing your meals! This is everything you'll need to get your propane barbecue going. 0/10 would advise starting to prepare anything to realize you don't have a lighter. Fortunately, if there are other camper rentals nearby, you can generally borrow one, although it's always better to have your own!
Best Time for Jeep Camping
The majority of state parks and campsites open in April and shut-in late September or early October. However, some campsites and state parks are available all year, and it is up to the person to decide whether or not they want to camp.
Campgrounds are packed with campers and families during the summer months, especially in June and July. Because the children are out of school and the weather is ideal for outdoor activities, these months are ideal for camping. Furthermore, because most families choose to vacation during the summer, visiting the camps is more possible.
Weather is the first thing to consider when knowing the right time to start camping. Colder climates are best explored during the summer between May and October. Extremely hot climates are best tented between December and April when temperatures are milder and appropriate for camping.
The weather is nicest for colder climates throughout June and July; thus, most people prefer to camp during those months. This makes the summer months ideal for families with children since they may participate in outdoor activities while still relaxing.
About Overlanding & Camping Categories
Overlanding is appealing because it allows you to experience isolation while broadening your viewpoint and understanding of the world. It also helps you to learn about different cultures.
Vehicle-based exploration also aids in the development of mental toughness, survival skills, resilience, and connecting you to the natural environment in a way that few other activities can. So what is the definition of Overlanding? Both psychologically and physically, it was a huge task.
The key to Overlanding success is self-reliance, and thinking is important. You must be prepared to go into full-survival mode and deal with any repair issues that emerge along the way. Harsh settings, severe temperatures, and the wildlife you may encounter along the trip are all things to consider. Remember that traveling independently means going days without a shower and eating nothing but granola bars and instant coffee at some time.
Jeep owners enjoy being outside and are likely to like camping as well. These capable four-wheel drives can get us where we want to go in the backcountry, and there are some new jeep camping gear alternatives available to make getting to our off-road destination a little simpler.
Jeep Camping: FAQs
Are jeeps good for camping?
Jeep owners like going camping. Jeep is the greatest option for individuals wishing to pack their sleeping bags and tent that is best for car camping and hit the road for a long weekend away.
Can you sleep in a Jeep?
In a little Jeep, it is extremely feasible to sleep peacefully. So prepare for your first excursion in the isolated woods with your jeep. Then, in the limited cargo space of your 2-door Wrangler JK, JL, or Rubicon, make your bed.
Which jeep is best for camping?
The Grand Cherokee, a popular alternative to the iconic Jeep Wrangler, is an SUV version of a vehicle designed for the outdoors, putting it on the list of cars for camping that is also a sturdy, drivable family vehicle.
What is the best SUV for camping?
Two-Row Crossover Suv: 2019 Subaru Forester.
Body-On-Frame Off-Roader: 2015 – Present Toyota 4runner.
Midsize Pickup: 2017 – Present Honda Ridgeline.
Minivan: 2018 – 2020 Toyota Sienna.
Full-Size Van: 2015 – 2019 Mercedes-Benz Sprinter.
Can you sleep in a Jeep Compass?
Unfortunately, sleeping in a Jeep Compass will be difficult. These are not the largest Jeep models, and they will not provide the most pleasant night's sleep.
How do I camp in my jeep?
Take into account these details:
The inside space of your jeep. Do you wish to reduce the amount of room available inside your jeep by installing a mattress, for example? Sleeping inside your jeep may not be for you if this isn't for you.
What level of comfort do you desire?
Of course, the most comfortable place to sleep is inside your jeep. However, if sleeping on a harder surface isn't an issue for you, you may alter your jeep to allow you to pitch a tent on top.
A two-door Jeep contrasted—a four-door Jeep.
A two-door Jeep will not have as much space as a four-door Jeep. So, as a result, a mattress will take up more space inside a two-door Jeep than it will inside a four-door Jeep. Is this anything that you care about?
How do you camp in the back of a Jeep?
The items on your must-have list would vary depending on where you're camping, but practically any list will contain several of the following:
Coolers and fridges brimming with drinks and snacks
A table that can be folded
Tables and Chairs
Bags for Sleeping
Garbage bags
First Aid Kit for CanJam, Cornhole, and Ladderball
Wipes (wet)
Towels made of paper
Opener for bottles
Plates and bowls
Finding distant regions and living there while supported by your off-roader is what Overlanding, or Jeep camping, is all about. Despite the jeep's lack of storage room, some Jeepers say it's the ideal way to be comfortable in the outdoors.
Jeeps should be a logical choice for camping vacations, given their off-road expertise, but many people believe they can't fit all they need inside a Jeep. You may maximize your storage space by preparing ahead of time and bringing everything you'll need to have a good time. Though no one goes camping to get pampered, having a few creatures' comforts around might help you focus on your friends, family, and fun.
Can I sleep in my car at a campsite?
You may sleep there if you have secured and paid for a place. However, you may not avoid paying the fee by pulling over to the side of the road and sleeping there. Backcountry camping is trekking into the woods to set up camp, rather than sleeping in automobiles or vans!
What is the best car for camping?
If you don't have a Jeep, these are smart choices:
Honda Jazz.
Honda Civic Tourer.
Ford Grand Tourneo Connect.
Mini Clubman.
Skoda Superb Estate.
Citroen Berlingo.
Seat Ateca.
Audi Q5.
Is Jeep Wrangler good for camping?
Camping is one of the most typical off-road usages for the Jeep Wrangler. The Jeep Wrangler is the ultimate camper SUV for various reasons, whether it's in the woods or on the lakeside.
Bottom Line
SUVs, trucks, crossovers, vans, and motorbikes are just a few of the vehicle types that may be converted into viable Overlanding setups. Your Overlanding fantasies may come true on any budget, from a low-mileage Jeep Cherokee on Craigslist to a minimally modified Honda Passport to a premium 1991 Land Rover Defender 110. Toyota's Land Cruiser, Tacoma, and 4Runner are popular vehicles for a vehicle-supported camping adventure. The legendary Defender 90 and 110, Mercedes-Benz Sprinter van, Volkswagen Vanagon, and various Jeeps are also included.
A well-prepared vehicle is required while traveling in a new country, but an Overlanding rig is a means to an end. In other words, it is a tool that assists you in reaching your target. Like the rest of your gear, a vehicle is a piece of equipment that you employ to go closer to the outdoors. Water, a first-aid kit, food, food cold, tools, utility jugs, a full-size spare, camping supplies, and hygiene items are all vital to include.