Just minutes from Sedona on Hwy 89A, a few RV parks in and around Sedona, and campgrounds scattered throughout designated desert locations on the outskirts of town. Campgrounds along Oak Creek offer special tent facilities, as well as open campgrounds for tents and RVs.
The season starts from here! Located in the canyon, these campgrounds are more excellent than Sedona and the surrounding area and are often shaded by canyon walls. This can be a real advantage in the summer when temperatures are high but can make the campground cool from fall through spring. Here are the 6 best Sedona free dispersed camping spots.
Best Sedona Free Dispersed Camping Spots
Some of these campgrounds also offer sites on a first-come, first-served basis. Sites have picnic tables, grills, and campfires, and all campsites offer vaulted toilets, and some have showers. Generators must be turned off by 9 p.m.
Dispersed camping has no facilities, so it must be completely self-sufficient. These sites are much warmer than those along Oak Creek Canyon and receive plenty of sunshine. RV parks offer full services. Arizona is not just Flagstaff; let's have a look at these awesome forests!
Manzanita Campground
This small campground tucked away in the woods off Highway 89A in Oak Creek Canyon is the closest campground to Sedona and is the most convenient to access the main attractions. Manzanita is only open to tents but operates year-round. The large deciduous trees provide plenty of shade during the hot summer months, and the flowing river behind adds to the peaceful atmosphere.
For campers looking to escape the noise of RV generators, this area is a real treat. However, it is down a hill from the road, so that traffic noise can be a factor. In addition, this campground has only 19 sites, each of which sleeps, eight people.
Cave Springs Campground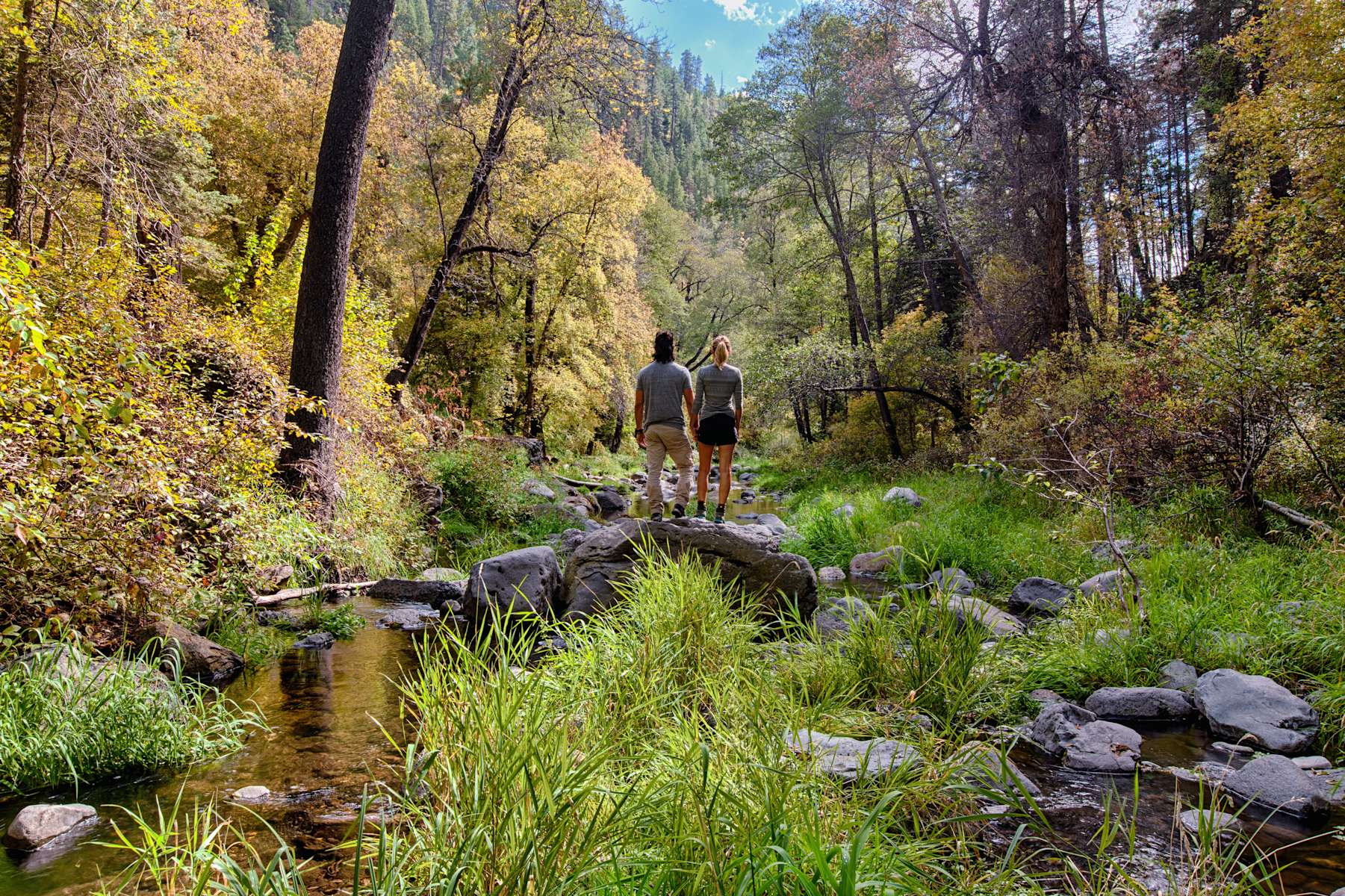 Located off-road, this campground is relatively free of road noise. Many people like this aspect of the campground. It is also the largest campground in the Oak Creek Canyon area, with 89 campsites, so it has a livelier atmosphere.
Unfortunately, this campground is only open from early April through the end of October.
Except for one dedicated tent site, the campgrounds are open to tents and RVs and can accommodate trailers and RVs up to 36 feet long. You can make reservations, but they also offer loops on a first-come, first-served basis. This campground has showers but only restrooms in the rooms.
Pine Flat Campground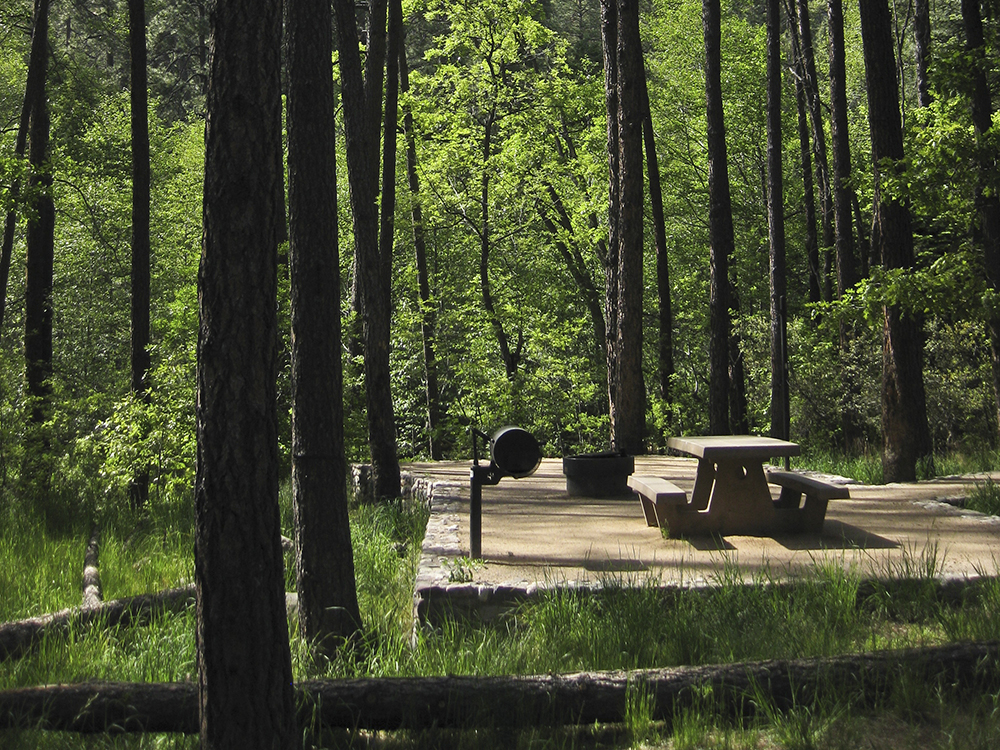 Tall pines and the view of towering orange cliffs make this campground the most scenic of all Oak Creek Canyon campgrounds. 
The only drawback is the location on Highway 89A. However, cars driving have a good view of the construction sites, as they are spaced along the edge of the road at the same level as highways. 
Around the three Forest Service campgrounds, this is the furthest from Sedona. Travel time can vary significantly depending on traffic, but it generally takes about 25 minutes to get to Uptown Sedona.
Rancho Sedona RV Park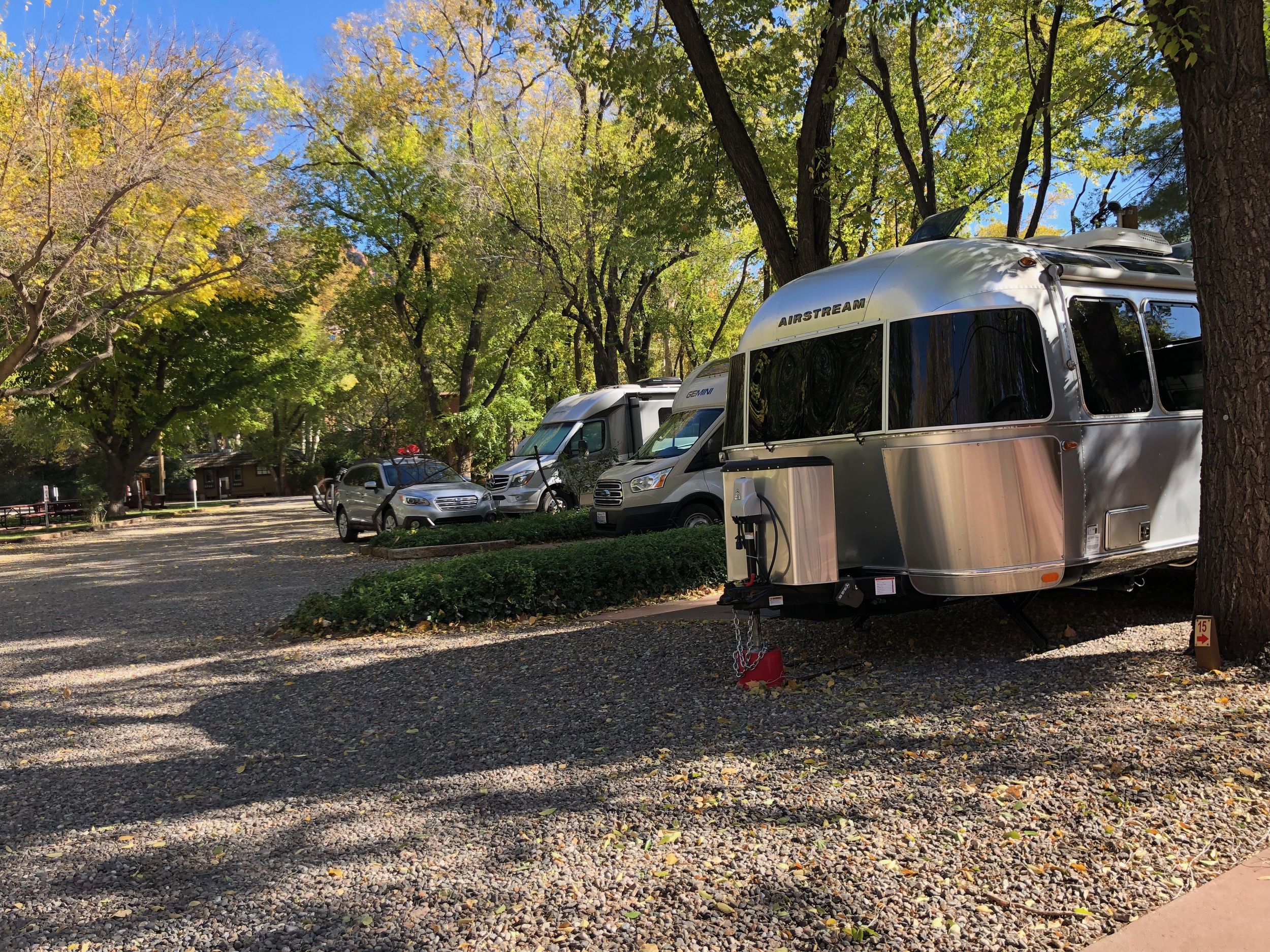 Located just below Uptown Sedona, Rancho Sedona RV Park has an incredible location. You can see the red rock backdrop nestled under giant aspen trees, meander along the banks of Oak Creek that runs through the park, or walk to Sedona's top attractions.
From the campground in Uptown, Sedona is about a 20-minute walk, but you can be at Tlaquepaque Arts and Crafts Village stores and restaurants in just 10 minutes or less. The sites are mostly gravel, although some have patches of grass and are relatively close together. But when the trees come out in the spring, this facility looks like a botanical park.
Verde Valley RV Resort & Campground
Verde Valley RV Resort is a green oasis on the banks of the Verde River, about 30-35 minutes from Sedona, near Cottonwood. The resort has large trees to provide excellent shade and is open to campers and RVers. Sites are large and offer full hookups, and they have cell service.
Sanitary blocks are equipped with showers and flush toilets. On the grounds, there is an outdoor swimming pool, miniature golf, horseshoe pits, and a recreation center with a pool table and ping-pong. Recent major renovations have entirely updated this fleet of motorhomes.
Dispersed Camping around Sedona
Find the right road, hike a short distance and choose your land to set up camp. The Highway 89A area west of Sedona passes through the Coconino National Forest, and you can camp anywhere (visit the Pump house Wash). Camping is free. However, at zero cost, there are no facilities.
You must be completely self-contained and bury your waste or have a self-contained unit. The main dispersed camping area is at exit FS525, which is also the road to the Palatki Ruins. 
Note that the dispersed camping area ends at Boynton Canyon Road (FS152C). You will also find camping east of Sedona on Schnebly Road, but it is a very rough road and unsuitable for any trailer.
South of Sedona, you can also camp, but it is a significant distance from town and not particularly convenient to significant attractions except Montezuma Well.
Sedona Free Dispersed Camping Spots: FAQs
Is dispersed camping allowed in Sedona?
A scattered camping spot is located just off Highway 89A north of Oak Creek Vista at the top of Oak Creek Canyon, north of Sedona. During the winter, this area is closed. East of Sedona, right off Schnebly Hill Road, north of the Schnebly Hill Vista, look for a sign that says "Camping Permitted."
Can you sleep in your car in Sedona, Arizona?
For those looking to camp near Sedona, Loy Butte Road is ideal. At the beginning of the route, several huge gravel loops are ideal for RVs and trailers. Car campers, on the other hand, may go deeper in for more private tent camping.
Learn More: How to Insulate A Tent for Winter Camping
Where can I park my camper van in Sedona?
RVs and motorhomes must park in allocated spots and must not park parallel to conventional car parking spots. Most tourists' starting place, includes a choice of restaurants, galleries, and shopping. On the crossroads of SR 89A and Forest Road, the Visitor Center is an excellent starting point.
Is dispersed camping allowed in Arizona?
Thankfully, scattered camping is permitted and nearly often accessible in Arizona on publicly owned property, such as locations controlled by the Bureau of Land Management. Thus, camping is an excellent way to experience 'The Grand Canyon State.'
Can you camp for free in Sedona?
The Schnebly Hill Vista and I-17 offer free camping near Sedona. This is where you may camp on your own, but make sure you seek signs that say "camping allowed" to make sure you're not camping illegally.
Is there free camping in Sedona?
You can have some free camping spots here:
Off Schnebly Road near Munds Park, east of Sedona.
FSR 237 at Oak Creek Vista, north of Sedona.
FSR 525 in West Sedona.
Where can I park in Sedona?
When you know where to look, parking in Uptown Sedona is simple to come by. Sedona has seven tourist parking lots. These offer free parking for the entire day or three hours. To find the parking lots, look for blue free parking signs. You may also pay to park in front of the Uptown stores on State Route 89a. First, however, these are the spots where you can enjoy your outdoor adventures:
Jordan Road Parking Lot (corner of Jordan Road and Schnebly Road) Red Rock News Parking Lot (on Van Deren Road)
City of Sedona Parking Lot (corner of Jordan Road and Schnebly Road) City of Sedona Parking Lot (corner of Jordan Road and Schnebly Road) City of Sedona Parking Lot (corner of Jordan Road and Schnebly Road) City of Located at the corner of Schnebly Road and Cedar Street is a parking lot.
On Forest Road, there is a parking lot for the fire station.
On Jordan Road, there is a parking lot for the Sacajewa Center.
Corner of Apple Avenue and Mt. View Drive, Matterhorn Shoppes Parking Lot.
Corner of Schnebly Road and Mt. View Drive — Wayside Chapel Lot.
Sinaqua Plaza Parking Lot — Amara Lane and State Route 89A
Where can I park my van in Sedona?
Cave Springs Campground is located in Cave Springs, Colorado.
Campground for the Chavez Crossing Group.
Manzanita Campground is a campground in Manzanita, California.
Rancho Sedona RV Park is located in Sedona, Arizona.
State Park of the Dead Horse.
Avalon is a name for a camp in the United States.
Crescent Moon Campground is a campground in Crescent Moon, California.
Dispersed camping is an excellent alternative to Sedona campgrounds.
Where are the boondocks in Sedona?
We tried numerous places said to be available to Boondocking on our trip to Sedona in May. Most social sites are about 5 miles west of Sedona on Highway 89A along Loy Butte Road (Forest Road 525/Red Canyon Road). Up to Boynton Pass Road, both sides of the road are available to scattered camping.
What does Boondocking mean?
'Boondocking,' an American phrase that may be making its way over the pond, is the habit of turning off the highway in your vehicle, caravan, RV (you're a RoVer if you drive one of these), or Winnebago to overnight in free areas with no or limited services.
Can you camp for free in Arizona?
Hundreds of free campsites may be found along dirt roads and established campgrounds from the Coconino National Forest to the Kofa National Wildlife Refuge, thanks to all public and federal acreage in the Grand Canyon State.
Is it safe to Boondock in Arizona?
When it comes to Boondocking spots, Arizona is at the top of the list. Read on to learn about the top Boondocking spots ever!
Can you sleep in your car in Arizona?
When a person's blood alcohol concentration (BAC) is.08 or above, it is prohibited to drive or be in physical control of a vehicle in Arizona. There is no exception for sleeping in your car, although police officers might interpret the law in different ways depending on the circumstances.
Bottom Line
Camping in Sedona is just the beginning. Prescott and Sedona are great summer destinations, but Tucson and Phoenix are attractive options for camping during the cooler months. If you're not sure where to go camping, check out our list of the best places to camp in Arizona.
Arizona has all kinds of spots to explore. For ideas on where to go, be sure to check out our latest views for the best mountains in Arizona above. Some of the most exciting National Forests can be found near major cities and towns. I have listed the Sedona free dispersed camping spots.