Truck bed camping is a terrific way to travel and explore on a budget, whether you want to spend a weekend exploring with the family or a year traveling down the Pan-American Highway. But, while having a camper shell or canopy on your pickup makes going truck bed camping setup a lot simpler, it's not required to enjoy your time outdoors in your pickup.
What is Truck Bed Camping?
Truck bed camping was most likely started by a truck owner who went hunting or fishing for a few days. They choose to sleep in the vehicle rather than in a tent on the ground! Camping on a truck bed is a more cost-effective option than owning an RV or camper. Camping on the ground is also less convenient, pleasant, and secure.
There are several options for camping with a vehicle as your home base. Your truck may be used as a leisure vehicle or only to lift your truck tent off the ground. For many individuals, truck bed camping is a cost-effective and practical solution. While sleeping in a pickup truck may seem unusual, it may be a pleasant and practical warranty way to travel.
Truck camping has several advantages, including convenience and security. It also gives you greater freedom because you always have everything with you.
Today's trucks are large and pleasant to drive, with many accessory possibilities, particularly for camping. They have plenty of space to store their clothes, bedding, and cooking equipment. You may even set up your truck bed camping accessories in a few different ways.
Camper shells or canopies that fit into your truck bed may shelter you from the weather overnight while traveling and keep your valuables secure.
Truck bed tents are cheap and straightforward to set up before retiring for the night. When you're ready to go again, tear them down and store them.
When setting up camp for the night, you may always bring a ground tent with you.
With your pickup vehicle, tow a camper.
Truck Bed Camping: How-To, Tips
There are unlimited possibilities for Truck Bed Camping that will astound you. Of course, it's preferable if your vehicle has a cap to protect you from bad weather, but if it doesn't, simply restrict yourself to good weather, and you'll be able to sleep beneath the stars.
Here are a few pointers to get you started:
Between the fenders, build an elevated sleeping platform with storage beneath.
To keep the weather and pests out, make sure the cap is securely sealed.
Please keep it clean because it's your home away from home.
Keep valuables and goods that are susceptible to the elements in the secured cab.
Organize and split your gear and equipment in weather-resistant containers or bags.
To avoid attracting insects at night, use glow sticks instead of lights.
Keeping an extra key for your truck in the bed is a good idea.
Bring a charging device for your electrical devices with you.
Instead of using an air mattress, use self-inflating foam.
Taking advantage of Truck Bed Camping is one of the most acceptable methods to obtain this independence. Pickup trucks appear to be the most frequent vehicle on the road nowadays, especially among outdoor enthusiasts.
Truck Camping Gear List
This section contains all of the necessary equipment and extras for properly camping in the bed of a pickup truck while on the road. It is impossible to overestimate the importance of a good and restful night's sleep, whether truck camping or traveling. So spend some time considering these options to ensure you're acquiring the most excellent equipment for the task.
However, if you're going on many vacations or for a long time, you'll want to invest in a more comfortable sleeping place. You can transport all of your things while still sleeping on your truck bed. Consider a removable truck bed sleeping platform system, which serves two purposes. Here are some extra choices for maximum comfort:
Installing a truck bed sleeping platform on top of conveniently accessible camping storage may seem complicated, but then there are system makes it simple with safe, weather-proof storage solutions.
The platform is elevated over the wheel wells, maximizing the flat space and allowing you to stretch out and relax. The area underneath the platform may be tailored to your specific needs and car. You're always ready to travel with all your gear stowed securely below and an inflatable mattress or foam mattress on top.
A waterproof truck bed tent or camper shell provides shelter and a pleasant and comfy sleeping environment. It also provides shelter from the elements and wildlife.
If you like to sleep on the ground, a classic tent is a fantastic choice. The disadvantage is that your tent equipment will take up storage space, and there will be more setup time. A snake is also much more likely to be found in your pump sleeping bag.
Learn More: How to Attach Sleeping Bag to Backpack
Sleeping Plan for Truck Bed Camping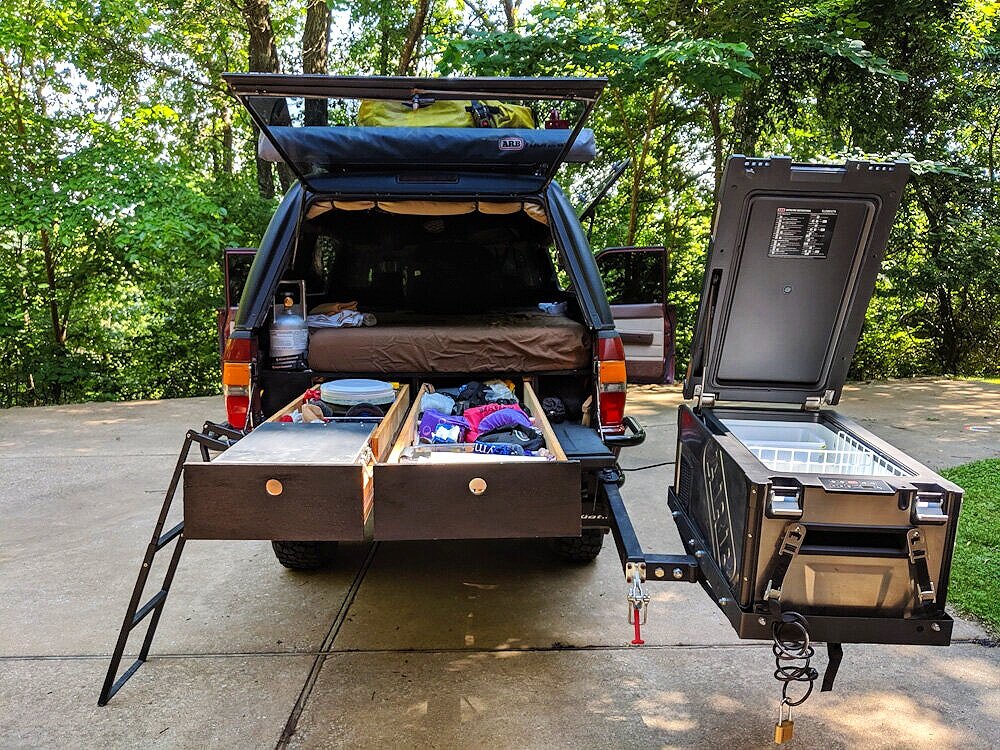 Truck bed camping isn't a one-size-fits-all affair, as you can see. There are various innovative methods to prepare a truck bed for camping, so you may make it your own. Remember that more outstanding planning ahead of time can help you have a better trip.
Creating a Sleep Environment
For a good night's sleep, you need to be comfortable, which involves having the correct clothing. You don't want to pack on extra pounds, but you do want to be comfortable.
For comfort and support, choose camping mattresses or camping sleeping mats.
Sleeping bags provide cushions as well as warmth.
Don't forget to bring pillows, sheets, and blankets for a comfortable night's sleep, depending on the weather and your particular preferences.
If you decide to bring your canopy or cap to camp, you'll need to make some alterations to make the most of your area. Adding storage space underneath your bed without compromising headroom may be accomplished by building a platform.
Taking Care of Your Power Needs
During your camping trip, you will require power at some time. Power inverters are devices that convert DC currents to AC currents so that electronics may be charged.
You have choices if you don't want to rely on your automobile battery for all of your power demands. Consider purchasing additional batteries in the form of portable emergency jumpers or portable power banks.
Read More: Best Battery Powered Electric Blankets for Camping
Putting Together Your Camping Kitchen
As previously stated, many Slide-in truck campers are equipped with full-service facilities, such as cooking appliances. However, whether you opt to camp in a cap or a tent, you must plan for meal preparation. Your pickup truck's tailgate makes an excellent prep table.
Adding Insulation to Your Truck Bed
You should insulate your sleeping space unless you expect nightly lows of 70° during your camping vacation. Although getting off the ground and onto a truck bed camper is beneficial, it does not guarantee that you will not wake up shivering.
Check for cold areas and leaks in your camper or tent. You can insulate the area with insulating materials, additional fabric, or block the leaks.}
Before putting up your tent or camper, cover the bottom of your truck bed with the cloth.
Make a platform to help you rise from the ground or the floor.
What Makes Truck Bed Camping So Great?
The camping and recreational vehicle business bring in more than $20.2 billion every year. It's still growing, with over 56% of people indicating they'll go camping more this year.
Truck camping is a fantastic way to spend more time outside fishing, hunting, or simply relaxing with your family.
It allows you to travel cross-country while saving money on accommodation costs. It has a lot of mobility so that you can camp in more difficult-to-reach places, and it's also incredibly low-maintenance.
For hunters and fishers, truck bed camping is a fantastic option. It makes pursuing their interest easier. They can drive right up to where the fish are biting or where the game is assembling, and they won't have to worry about erecting a tent for the night. Of course, some people equip their truck beds with practically every convenience known to man, but even a simple camper shell may provide a pleasant stay.
What You Need for Truck Bed Camping
After you've covered the essentials, here are some valuable items of truck bed camping equipment to help you make the most of your time. When it comes to truck bed camping, limited and restricted space is the name of the game.
By rigging an awning system, you may add some more dwelling space to your home. A tarp and poles will work enough for the job. You might also save time and money by purchasing one of these awning systems, which you can install on the top of your vehicle.
Bug netting: a bug netting system is worth a hundred times its weight in gold. You might use a bug net that is attached to the roof of your truck bed canopy or simply a giant net that hangs over you.
Cotton Sheets: in the winter, sleeping bags are ideal. In hot weather, you may want to lie on top of your sleeping bag with a light sheet draped over you. Darker hues hide dirt better than lighter ones.
Comfortable Camping Chair: You won't want to spend the entire day crammed into your truck bed. An affordable, portable camping chair will suffice. Even a teeny-tiny camping bench has a place!
Duct Tape: because everyone knows that Duct Tape is a miracle worker.
Where Can You Go Truck Bed Camping?
Truck camping adventure has become more prevalent in recent decades than traditional ground tent camping. Similarly, there has been a noticeable increase in the creation of truck camping places, particularly in the United States.
Truck camping is becoming increasingly popular for a variety of reasons. To begin with, sleeping in truck bed camping tents, rooftop tents, or hatchbacks is more convenient and comfortable than sleeping in traditional ground tents. Second, truck camping allows nature lovers and explorers to discover camping places that might otherwise be inappropriate for sleeping.
Furthermore, you may go camping on the spur of the moment without having to pay any campground fees.
These questions can assist you in determining the best place to camp in your truck:
Is it legal to camp in a truck in your chosen area?
Is the location safe for you and your expensive truck camping set up equipment?
Exists a limit to the number of campers and days they may remain on-site?
Is your truck camper well-equipped to get to the site and keep you going for the duration of your trip?
Are the locations close to any amenities you'd want to use during your trip?
Is this an accessible or pay-to-camp location?
How to Deal with Extreme Temperatures while Truck Bed Camping
Summer camping in hot weather necessitates the careful selection of a spot. Consider the contrasts between camping in an open field and camping in a forested area near a lake or river.
You'll want to look for a campground with plenty of trees for shade and a tight water supply. Anything you can wade in, whether it's a lake, river, or creek, would be greatly welcomed as you reach midday!
Bring more giant Rubbermaid buckets to fill up for your smaller ones to splash and play in if you won't be near a natural water source but will be in a public campsite with access to water.
Change Your Cooking Habits: Cooking outside is one technique to keep your camper cool throughout the summer. If you need to cook something, plan meals that don't require any heat or put up a compact camping burner on a table outside your campsite.
To Stay Cool, Make Ventilation:
Remove the rain fly from your tent unless rain is probable. This will enable more heat to escape overnight, keeping your tent cooler and reducing condensation buildup on the interior of your tent.
You'll also want to generate some ventilation and air movement if you're truck camping or sleeping in your vehicle, van, or SUV. Open as many windows as you can.
If you're going to have to endure a frigid winter, you may as well enjoy it. A truck with four-wheel drive and all-terrain solid tires is quite helpful in getting to remote locations. Although there are some apparent drawbacks, we believe the trade-off is well worth it.
Truck Bed Camping Sleeping Gear
Electric Cooler/Fridge Freezer
Portable Handheld Camping Vacuum
Global Positioning System (GPS)
Automotive Tool Kit
Winch & Recovery Tools
Power Inverter
Truck Bed Air Mattress
Vacuum-Insulated Thermos
Dehydrated & Freeze-Dried Foods
Truck Bed Camping Storage
Pack with purpose. Cooking and food prep supplies should go in one bag or container, while clothes should go in another bag or container. You'll be able to find what you need without having to rummage around your vehicle, and it'll be simple to store when you need to create a place for other things.
Cooking time is reduced by preparing meals ahead of time and freezing them in a cooler. Then, defrost them and reheat them on a camp stove. Fill multi-gallon jugs with clean water, or use cleaned-out 2-liter soda bottles. You may even freeze them and utilize the water when they defrost to create homemade air conditioning.
Other essentials for any camping trip are a compass, additional batteries, matches, maps, and a phone charger. Bring a portable 12-volt power source if your camper shell doesn't have one. Keeping a spare set of keys in the truck is a good idea.
Truck Bed Camping: FAQs
What is the truck bed campers called?
Truck campers are also known as truck bed campers, slide-in campers, pickup campers, and cab over campers in the United States and Canada. They're known as demountable campers in Europe. Tray campers are how they're known in Australia.
What Size Air Mattress Will Fit in Toyota Tacoma Truck Bed?
Full size, full XL, and Queens will all fit wonderfully in your truck bed. The entire mattress dimension is 54x 74 inches, which is large enough to suit most Toyota Tacoma truck beds.
What is the gas mileage like with a truck bed camper?
A gasoline-powered one-ton truck transporting a 3,000-pound truck camper at 60 mph will generally get 9 to 10 mpg, but a diesel-powered vehicle performing the same pace can quickly obtain 14 mpg.
What are the Benefits of Popup Truck Campers?
Towing pop-ups is simple.
Because of its modest profile, wind resistance isn't an issue when driving along the highway and setting up and dismantling a pop-up is simple and straightforward.
Pop-ups are also inexpensive.
Pop-ups lack the storage space of travel trailers, as well as restrooms and enough water storage.
How to Set Up Popup Truck Campers?
While a new pop-up camper should arrive with everything you need, leveling blocks and camper jacks are two items to pay careful attention to.
Leveling Blocks, often known as wheel chocks, are used to keep your camper level. These are positioned underneath your pickup truck's wheels to keep the camper flat.
Camper jacks are available as an option or as a standard feature. The camper must be stored outside of the truck bed, which necessitates the use of jacks. Many campers are stored on jack stands during the off-season and then re-installed during the summer months.
What is the average cost for a truck bed camper?
On average, a truck camper, also known as a pickup camper, costs between $8,000 and $40,000 new. The Eagle Cap, for example, may cost up to $79,900. Used truck camper's wide range in price from around $1,000 to more than $25,000 depending on condition, age, amenities, and brand.
How Do You Intend To Use Your Truck Bed Camper?
What types of vehicle camping activities do you intend to go on, and what characteristics do you require?
Then determine if you like off-road, campground, or RV park camping.
There are a few factors to consider depending on where you want to camp, such as:
Do you want a compact truck camper with a slide-in or a pop-up bed?
Are you looking for firm or soft walls?
What kind of gadgets and functionalities will you be able to utilize there?
What toiletries do you require?
How big is the bed of your truck?
Do you require the additional room provided by a slide?
How much do truck bed campers cost?
Because there are fewer of them, truck campers retain their value. If you're searching for anything new, expect to pay anything from $5,000 to $60,000. Depending on the age, condition, features, and manufacturer, a used vehicle may cost anywhere from $2,500 to $30,000.
What is the best truck bed camper?
Lance Campers, based in Lancaster, California, is a truck camper manufacturer. They have nine hard-side truck bed camper types to choose from, with an even split between the top short and long bed truck campers. The aluminum and fiberglass construction technology is used to make Lance campers.
Do they still make truck campers?
Yes, truck campers are made to fit practically any truck size and cargo capacity. Full-size and mid-size long bed, short bed, ultra-short bed, and flatbed vehicles can accommodate truck campers.
Do truck campers have toilets and showers?
A lightweight truck camper connects to your pickup truck's bed, transforming it into a home away from home while you're on the road. Some campers don't have access to a restroom at all, while others have a wet or dry bath.
Can you sleep in a truck camper off the truck?
If you can get it off the truck, you can sleep and stay inside it when it isn't on the truck. However, make sure that the camper is leveled and supported by solid jacks. It's also worth noting that not all campers are suitable for sleeping inside when off the truck.
Are truck campers worth it?
If you ever need to sell it, you'll receive a better deal than you would on some other RVs and campers. A truck camper's value is relatively high, exceptionally if it is well maintained.
Bottom Line
Camping is a popular outdoor recreation in the United States. However, many people travel on long travels, which means you must be especially cautious. After all, a brisk morning stroll, family fishing, and music over the campfire will leave your family with good lasting memories. However, as previously stated, maintain your safety, keep the place clean, be vigilant, and, of course, have fun!
Make sure you have all of the necessary safety precautions in place before planning your camping vacation. Abandoning your home means leaving your familiar surroundings, and time is a terrible mistress. It would not only ruin your trip if you didn't have safety, but it may also be deadly.
You'll get a sense of how alone you are on your campground if you're out on a distant arch with your family, just admiring the stars overhead. There is no one nearby, and you are entirely alone. If something goes wrong, there is no one to turn to for assistance.